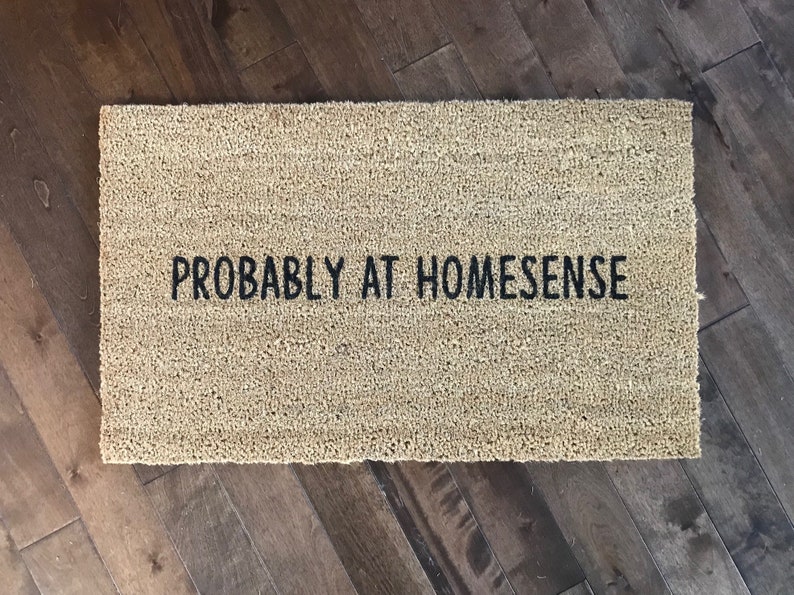 I called one of my girlfriends up this weekend and said "Wanna Go Hit the HomeSense Stroll Saturday?" It's the kind of offer invite every Basic Bitch across the Western Continents wait for; yearning for its majestic aisles of wonder. It's the place where one goes not knowing what they want, and consequently a place one leaves knowing they can't live life without it. It really is a "stroll" in all explicit senses of the term, as I'd sell my soul for that adorable unique Shabby Chic Hutch that would be perfect in my dining room.
So not surprisingly, my girlfriend Angela was more than enthusiastic at the opportunity to chase the proverbial dragon and dance with the Devil of Home Decor. We in fact are not the only feigns for this kind of self indulgence. I've often found hand written lists discarded in the cart baskets as if they were a testament of good intentions gone array.
I scoff as I read out "Towels" And think to myself "Oh Honey, You came for just Towels, the same way some of us go to Home Depot Mid-week looking for a good solid Hammer.
I'd put money on it that she left with a charming 3 ft. ceramic dancing monkey, a gift set of assorted pasta, hot pink throw pillows that have laughing Llamas on them, a scatter rug, and a partridge in a pear tree…but like…literally.
As things escalate, I imagine there was the familiar mantra many of us share circulating in her brain, "It will look perfect in that one corner of the bathroom that currently is the last space available for yet, another Knick Knack.
So Saturday rolled around, and I sprung out of my bed with the kind of purpose I wish I could repeat at 7:30 am Monday through Friday. I through on the best Basic Suburbs Bitch outfit I had- as in whatever was staring at me first. I already had it in my mind that a Pistachio Latte was going to be the first stop enroute, and if I timed it right, I could make it three quarters the way through my venti triple shot latte by the time those doors slid open to me. Fueling the body is key for this level of elite shopping.
I had a triple dose of excitement when I arrived finally. There was no line up to get in, my girlfriend who I had not seen in months threw me a distance hug, and the espresso was kicking in at high gear.
As in I blended in with every other Basic Betty in there, I floated anonymously in the sea of indistinguishable Robots; picking up, touching, putting in cart, discarding, going back, putting it back in, then replacing it with something even better. And while I did not have a paper list, I did have Alexa curate one for my handheld device, whereby Alexa was asked the following:
What I Went in For:
Shelf
Bedroom Art
Towels
Bathroom Rug
2 Bathroom Rugs
What I walked out with:
2 Pendant Lights
2 Shelves
2 Handcrafted in India Wood Letters
1 Giant Lindt Chocolate Bar
1 Shadow Box Art
2 Massive Canvas Art for Living Room.
0 Towels
I was a lamb to the slaughter as its Lavish Home Décor tentacles sunk into me . As I hit the first aisle, then doubled back to the far corner, pinballing between directions, I recognized I had made a terrible error. I had forgotten to take my Vyvanse, the one thing in life necessary to keep me in line, organized, and on task. This caused pure chaos in my already overly stimulated brain and I knew I was a goner at this point. Or maybe it was my overflowing cart? Or the moment the greeter saw me leave with my loot validating me with a farewell "Looks like you did well!"
Total time from start to finish- 1.5 hours.12`w2q And I loved every damn minute of it. I came across this quote that I believe is fitting, however recognize that Ol' Ralphy had more poignant circumstances in mind when he wrote this.
Do not follow where the path may lead. Go instead where there is no path and leave a trail.
― Ralph Waldo Emerson
There was a definite trail left behind that day…a trail of impulse buys.
But Alas, look at my new little toilet room that once was a baron land of drab wall space, now adorned with the treasure trove of my labors. I even used a Level for the first time to hang it…Adulting AF!
Special Shout Out to the Gifted Art Work my Friend April gave me by Sophia Brown– Tattoo Artist at Electric Odyssey in Calgary Alberta.
Don't Forget to Like, Share and Comment!
Thanks for coming by Talez From a Broad